The night a sceptic became less sceptical - Nottingham ghost hunt
Posted on
It's not often you get to freely admit in public that you are spending the night with your good friend's husband, but that is exactly what happened last Friday. There was lots of adrenaline involved too – in the form of a ghost hunt with Haunted Happenings. This one was to be special, as it would cover three locations in Nottingham in just one night :
The Galleries of Justice (image courtesy of www.galleriesofjustice.org.uk)
The City of Caves
Edwardian police station (image courtesy of www.hauntedhappenings.co.uk)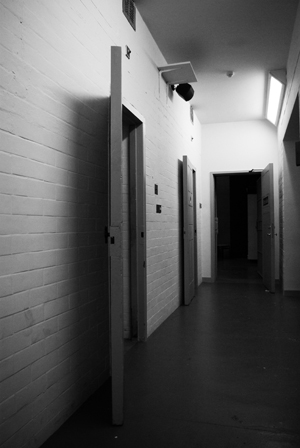 We arrived just in time for the 9pm start after having yomped across Nottingham to get to the Galleries of Justice. All carparks nearby had been full so we had parked 11 minutes walk away ( according to the excellent instructions sent by Haunted Happenings ). However, having quite a poor sense of direction I had decided that we should follow the sat nav on my phone to get there. It was only half way there that we realised we were following driving directions rather than walking directions, which meant that in a city of one way systems we had gone a very loooooooong way round.
| | |
| --- | --- |
| | Settled into the court room, Wayne introduced us to the rest of the team, asked for who was a sceptic (ME !), who was new, etc. and went through some rules and regulations. Haunted Happenings has a strict behaviour policy, which was part of the reason I chose them, as a previous ghosthunt in the same location had been spoilt by bad behaviour of the guests. |
Then it was time for the lights to go off, and we were walked through some of the key areas in the Galleries of Justice and Fiona the medium gave her first impressions of who was 'haunting' that night. We were then split into three groups ( the original being made up of 28 guests ) with newbies going off for a bit of a ghost hunting training session and the rest of us going on to our first vigils.
We ended up in the wash rooms were activity included the smell of ethanol/alcohol, shadows and some activity during table tipping and glass moving sessions. Nothing that as the rational psychologist I couldn't explain away as autosuggestion, ideomotor response and the normal response of the visual system to darkness - entoptic phenomena.
| | |
| --- | --- |
| Later a Ouija board session in the cells produced a lot of activity. I didn't physically touch the board, as for some reason I was feeling squeamish about it, but the board seemed to respond to my questions !!!! I appeared to act as a sort of 'ghost pimp' ( Chris', my friend's husband, words not mine ), as the board responded very positively to suggestions that it was particularly interested in one member of the party ( also called Chris – let's call him Chris 2 to avoid confusion ). Weird, but again the ideomotor response could have been at play. However, whilst we were in the cells and no-one was in the corridor there was the noise of a door slamming, and Wayne on going to investigate could find no explanation for it. | |
Then it was off for the promised sugar and caffeine rush ! Nobody could complain about the biscuit selection, there was even jaffa cakes.
The second part of the galleries of justice saw us down in the caves below the court. (Image courtesy of www.hauntedhappenings.co.uk). Looks pretty innocuous with the lights on, BUT ....
This is where I had my first experience for which I have no explanation. Chris 1 had brought a Draper inspection torch. Basically a large torch with lots of LEDs on one side and a separate smaller torch at the tip. A picture will clarify matters :
Anyway, the tip bit had not been working all night. So imagine our surprise that whilst sitting in the dark, we saw one flash of greenish light near Chris' feet, then one closer to his arms, then the torch flickered and then the whole lot came on. We would find out later in the evening that with me calling for it to happen, it did on a couple more occasions. Chris was not a happy man – telling me to stop it ! As we were preparing to leave the cave, the motion sensor went of with no-one standing nearby and continued to do so seemingly in response to questions, to such an extent that our group leader took it with her to examine to see if it had gone wrong.
Then it was caffeine, sugar and crisp time ! By now it was the early hours of the morning but no-one was flagging as there was a real buzz in the atmosphere.
Now came what was perhaps the most active part of the night. All 28 of us trooped off to the City of Caves to be handed over to the other half of the Haunted Happening team, which meant passing quite a few drunk revellers in the streets and entering a deserted Broadmarsh shopping centre. It felt a bit like a scene from Dawn of the Dead…. bizarrely to go down into the caves you have to go up into the top of the shopping centre.
Dave, a medium, introduced us to the caves, and told tales of people having been grabbed ( apparently one lady even had a boob grabbed ) and pushed in the previous vigils, and whilst sitting in the reconstructed air shelter we heard a few bangs coming from the walls. Then we split up, with one half of the group staying in the shelter whilst the rest of us went further into the caves. Dave then asked for volunteers to go into the smaller part of the cave. He also asked specifically for a woman to volunteer as the spirit there seemed to respond best to female energy. So I ended up sitting next to Chris 2 – victim of my earlier ghost pimping, and opposite Chris 1 and Chris 2's friend Will.
Dave asked me to call out to the spirit of Ted, a little boy, which I did which seemed to bring on the second event that had me starting to believe in ghosts. Out of the pitch black a stone seemed to land behind Chris 2 and me, but when we switched on our torches and Chris 2 recovered his hearing after my screaming fit, there was nothing there. Chris 1 was hit on the arm, Will on his leg. There seemed to be a competition between Ted and Emily ( the spirit in the other part of the cave ) as to who could cause the most activity. Cue another stone landing behind me and Chris2 and another screaming volley from yours truly.
Ted later seemed to follow us to the reconstructed air shelter, where we witnessed seeming responses to questions on the K2 meter and bangs emanating behind our backs from the walls.
More caffeine and sugar, and it was off to the Edwardian police station which has been preserved as it was abandoned in the 1980s. Quite spooky, and there was activity on the Ouija board with information that seemed to be personal to Chris, apparently coming from the female spirit he had earlier encountered, and who had taken a shine to him, in the cells in the Galleries of Justice.
Which brings me to the end of the night and a debrief by the HH team. This is us just before the debrief at 5 am - do we look like we have had a good scaring or just tired ? My hair is usually a good indicator of how frazzled I am feeling, and it looks all over the shop, doesn't it ?
Thanks to everyone on the HH team, you were great, everything ran like clockwork and each and everyone of you was friendly, reassuring and professional.
I was so impressed, that I have already booked onto the Warwick ghost hunting event this January. This time I am taking my own husband !